About The Client
Our client is a multinational food company, the largest manufacturer of frozen potato products and a leader in quick-prep appetizers served in bars and restaurants. Creative Group had joined forces with this client on other work, but this was our first collaboration targeting their restaurant customers.
The Challenge
Across the nation, there are over 1 million restaurants competing for business. In fact, 1/3 of restaurant owners admit that attracting new customers is one of their biggest hurdles. Meanwhile, 85% of millennials crave new experiences, making the demand for restaurants to keep their menus fresh and exciting more important than ever.
Based on these foodservice trends, our client challenged Creative Group to come up with a way to use their portfolio of french fries and mouth-watering appetizer products. The goal was to help restaurants turn up the flavor and the fun in order to turn up the volume of food and craft beer sales.
Beyond just bringing in patrons, Creative Group had to make sure any idea they came up with could be customized to fit a variety of restaurant formats from bars to full-service restaurants. Plus, the idea needed to be easy to execute to take the load off the restaurant managers' plate.
The Solution
Program Marketing & Ongoing Communications
Creative Group dug in and began assessing insights around restaurant patrons. Armed with data such as 80% of customers will go out for specific promotions, 79% enjoy experimenting with global flavors, and 71% are looking for complementary foods when choosing a craft beer, our team came up with a solution to feed their cravings!
Event Experience Kits
Introducing the Buzz Box, a series of turnkey "event experience kits" providing restaurants with everything they need to create chef-inspired, limited-time menus and engaging on-premise activities. With fun themes based on key time periods, feeding into customers' need to be social:
Pigskin Palooza – for Fall Football
St. Practice Day – for St. Patrick's Day / March Madness
Summer Brewtopia – for Summer
Funtoberfest – for Autumn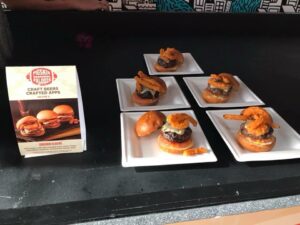 To appeal to the tastes of today's consumers and help further their flavor experiences, Creative Group tapped into our client's professional chefs to create food and craft beer pairings that restaurants could offer during each event. Delicious duos like Patatas con Pollo with IPA, Cast Iron Tots with Irish Stout, and Chimi Gouda Mozz with Pilsner made it easy for restaurants to customize their menus.
Plus, it enabled them to switch up the offerings to keep customers coming back to taste what's next. Topping it off were recipes that incorporated products from across our client's portfolio of brands to reinforce their positioning as a valued food powerhouse to its restaurant partners. Generating more success for restaurants, Creative Group wrote and designed social media posts they could use to get the word out about each event and draw patrons in. Also designed were point-of-sale elements including posters and table tents to promote the Buzz Box event dates and on-premise details.
Sell-In Materials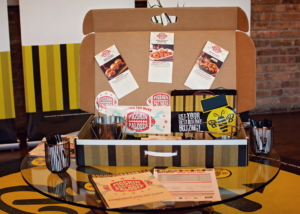 Aside from the Buzz Box event experience kits, Creative Group also produced sensational sell-in tools for our client's sales reps. These ranged from special live events that worked hard to get restaurants hyped about what Buzz Box events could do for their establishment.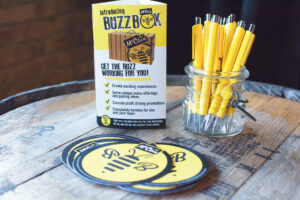 Sell sheets outlined the ease of participation: (1) sign up, (2) sample menu suggestions, (3) place your order, and (4) get your Buzz Box to bring each event to life. A website presented product and brand information, along with trends and menu ideas. Plus, a grand-scale, live, immersive event was developed to entice the nation's largest food distributors to get in on the action.
The Outcome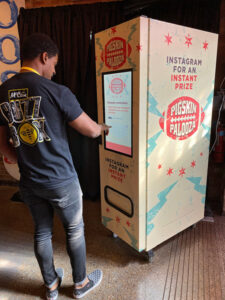 Success never tasted so good! Through this incredible collaboration, we empowered restaurants to host unique promotions and boost food and craft beer sales. Our client was thrilled with Creative Group's ability to design a program so flexible and scalable that it fit the needs of virtually any restaurant. Our client contact said, "Our Creative Group team really leaned into our objectives. They brought great thought leadership to guide us in our mission of helping small businesses attract more customers while also delivering more of our products into the hands (and hearts) of consumers!"
Click below to download a PDF of this case study.