Here's How to Maximize Your Next Incentive Program
Tired of the same winners every year? Sure, it's great that some people are continually killing it, but imagine how company sales would skyrocket if 80% of the sales force was vying for the top spots instead of the usual 20%. Maybe it's circumstance, or maybe it's motivation. Either way – let's make record sales happen.
Enter the sales leader's secret weapon: a powerful communication campaign plan.
---
Incentive Communications Matter!
Here are 10 Important Reminders to make your Incentive Communications a success. Keep scrolling to view the infographic.
#1. Theme It
Give your program a catchy theme – a rallying cry that people will take to heart.
Always tie the theme back to the program's objectives.
Keep it short, punchy, and easy to understand.
#2. Kickoff the Program in a Big Way
This is BIG NEWS, right? Be sure to treat it that way!
Consider making a live announcement during an important gathering, like a National Sales Meeting.
Use a video, or sizzle reel, to showcase highlights of the program – such as the incentive travel destination.
Interview past earners to drive excitement.
Include messaging from key executives featuring their commitment to the initiative.
Create a "destination reveal" experience that gives participants a taste of what they could earn.
#3. Build the Excitement
Rev up the energy and inspire your audience with teaser communications.
Provide helpful tips for participating and fun opportunities to get involved.
Incorporate motivational messages throughout.
Use mixed media to appeal to different participant preferences and promote interactivity.
Ad campaigns featuring solely emotional content performed nearly twice as well as ads with rational content.
#4. Launch/Enrollment Announcement is Critical
Don't let this important piece get lost in the shuffle!
You'll want to start the program off with a bang.
The enrollment and launch announcement will ideally inform participants of the program's "home base" and encourage the first action steps required to participate.
Plus, be sure to make it easy to keep them coming back.
Check out program website tips HERE.
#5. Go "Old School" with Dimensional Mailings
In a world of digital everything, actual mailings stand out – everyone loves getting something interesting in the mail.
Participants will appreciate the novelty of a physical gift – it's buzz-worthy.
A dimensional mailing will help make participants emotionally invested in the program.
In an interview with PCMA Convene Magazine, one of today's business leaders observed, "Our rational, information-focused minds are becoming digitized and mobilized, but our hearts are very much still analog, emotional, and traditional."
#6. Keep the Conversation Going
Alerts will emphasize when a participant needs to take an action or has completed a desired behavior.
These reminders can come in the form of push notifications or quizzes, on a platform or in an app, and even physical reminders.
Notifications serve as a coach to cheer the participant on and enable them to anticipate achieving a goal; which releases dopamine into the brain.
A study found that hard workers have high amounts of dopamine in areas of the brain associated with reward and motivation, while "slackers" have high levels in the emotion/risk perception areas.
#7. Push the Competition
The common rationale for using leaderboards is that they foster competition and push people to want to win.
While this is true for some people, there are also folks who just don't want to lose.
This article does a great job of explaining how to use leaderboards to motivate performance and enhance engagement.
#8. Award Selection and Presentation
The pride an award recipient feels is maximized with recognition by others – family, friends,
co-workers, and management.
Combining meaningful recognition with the award creates trophy value too – an authentic social buzz around earning such esteem.
According to the Incentive Research Foundation, "While the physical reward is still a big part of creating a motivational experience, the study found that on average between 40% and 50% of an employee's preferred total award experience has nothing to do with the physical reward itself." (On the other hand, IRF warns that poorly presented awards will have half the impact.)
#9. Utilize Technology
A mobile event app (like our own EventAPP™) can hit multiple touchpoints during the entire lifecycle of an incentive program – during qualification, throughout the incentive trip, and beyond.
Read this account from a potential trip earner for a participant's view of an app.
#10. Get Feedback
How well do you really know your participants?
Use surveys to keep a pulse on their preferences and what motivates them.
This touchpoint allows participants to be heard and can be used in real-time throughout (and after) trips to refine the program.
Don't forget to measure the other forms of communication too. If open rates on emails are low, but click-through rates on app notifications are high, you may want to adjust your communication schedule and media.
Communication Matters
According to the IRF, "top-performing businesses were 86% more likely than average companies to integrate communications in broader company communication for their channel incentive programs."
A smart, thorough (don't forget eye-catching) communication campaign is paramount to the success of any program. You can have the best-designed program rule structure and best trip planned, but if it's not communicated properly, no one will stay motivated enough to earn the top rewards.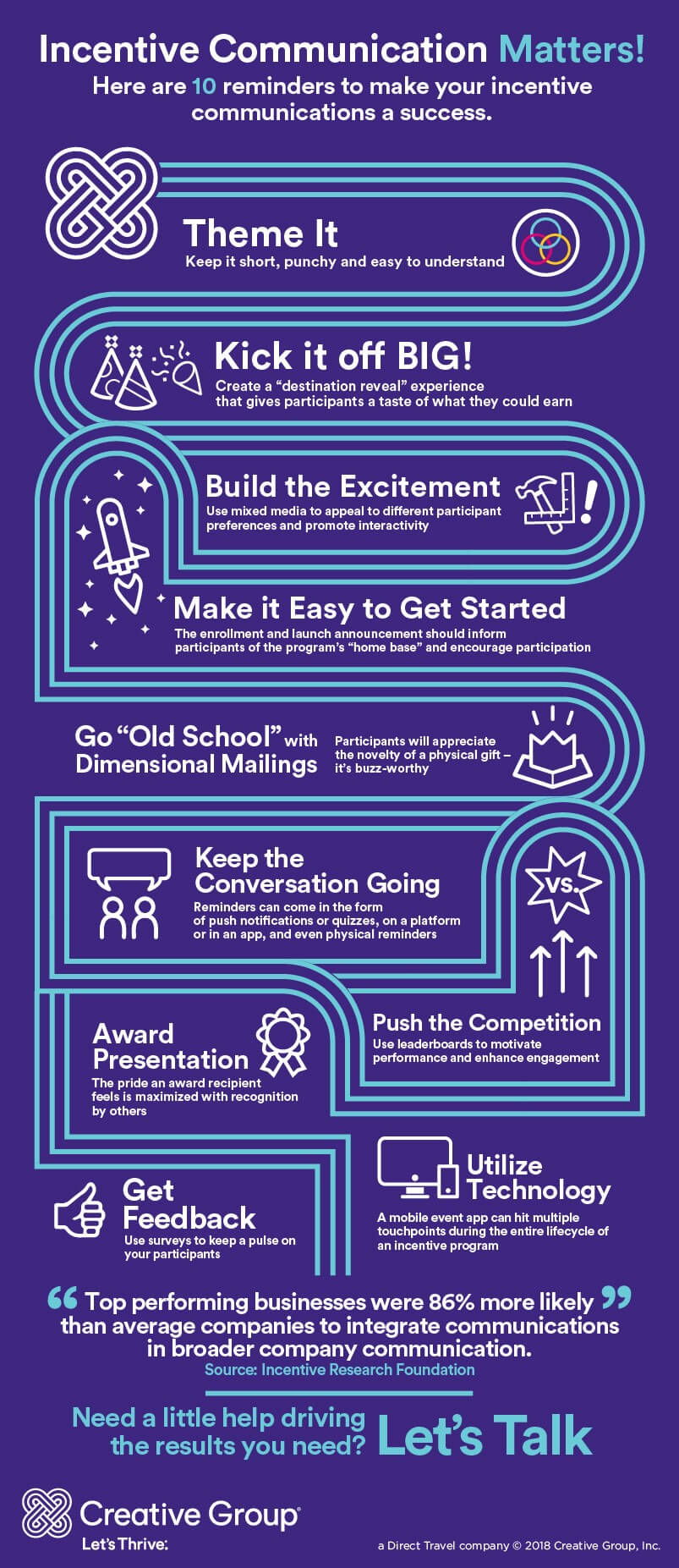 Need a little help driving the results you need?